#DUI: The Evolution of a Legal Care Center
BELLINGHAM, WA: March 2015, Attorney, Educator, & Now Author, Ziad Youssef, founder of mytrafficman.net, proudly announces the publication of his book. It's a Limited 1st Edition printing of the book that represents his vision for the future of law practice. Any lawyer practicing DUI defense, fighting speeding tickets, or representing those injured in an Auto Accident will benefit from the chapters on Work-Flow. Every lawyer is served by the Vision to transform law offices from attorney-centers into Centers for Legal Care by combining Talent, Technology & Training to deliver more to Clients for Less. Stop by the Flagship Legal Care Center in Whatcom County to get your Signed Copy!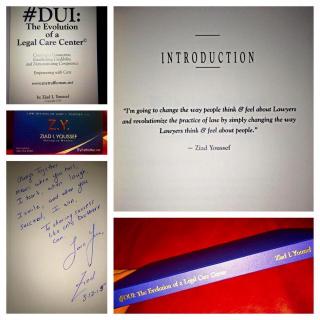 YOUR DUI STAFF MAKES A DIFFERENCE: HOW WELL TRAINED IS YOUR DUI TEAM?
DECEMBER 2014: Bellingham DUI Attorneys network to create a collaborative learning environment for the benefit of all DUI Firms. Come visit the Learning Lab at www.LegalCareCenterAcademy.net. We offer 10 Week Workforce Training Seminars for paralegals or anyone interested in the Legal Care industry. Add value to the firm you join by getting experience in the #LearningLab lead by Law Practice Leaders. YOUR CLIENTS GET WILL APPRECIATE IT.
SLOW DOWN & READ: SPEEDING TICKETS, LAWYERS & THE LIBRARY FOUNDATION
NOVEMBER 1ST: It's Time to SLOW DOWN & READ. Fight your Speeding Ticket using the mytrafficman.net PickIT4URTicket WebAPP and enter the PROMO CODE: LIBRARY to get a discount on the service. PLUS, ALL PROCEEDS WILL BE DONATED TO the Whatcom County Library Foundation. The fundraiser applies to any civil traffic infraction you get in Whatcom County, so SLOW DOWN & READ. CALL 360-734-0908 if you have any questions.



THE PROCEEDS WILL BE USED TO FUND CAPITAL PROJECTS IN THE WHATCOM COUNTY LIBRARY SYSTEM. To learn more about the WCLF or DONATE visit their site: http://www.wcls.org/foundation-donations
ASK MYTRAFFICMAN HOW: WE CAN PickIT 4UR Ticket (TM)
JULY 2014: MYTRAFFICMAN LAUNCHES NEW PickIT 4UR Ticket (TM)TECHNOLOGY that makes submitting your speeding ticket and hiring a lawyer to fight it as simple as 1, 2, 3.

1) GO TO: mytrafficman.net/app, 2) Login with your secure Amazon Account, 3) Submit your ticket informaiton. WE DO THE REST!

ADD/SAVE IT TO YOUR HOMESCREEN TO USE IT LATER TOO:
MARCH 2014: MYTRAFFICMAN.NET PROUD SPONSOR @ THE SKAGIT SPEEDWAY
MYTRAFFICMAN.NET PRESS RELEASE: Skagit Speedway

MYTRAFFICMAN.NET is dedicated to promoting youth sports from baseball to racing. These activities offer young people a positive experience to balance the increasingly fast pace of information from the internet, changing trends and the pressure to fit in.

The Races, in particular, have been a great opportunity for us to experience the inspiring stories of so many of the drivers, and to witness first hand the great influence it has on their lives. Besides learning to balance between cooperation and competition, the young drivers (some as young as 9 years old) learn to respect the driving rules and to appreciate the responsibility they have to other drivers, both on and off the track.

We are proud to participate as fans and sponsors, and look forward to a great season at the Skagit Speedway. We'll be rooting for Tristin "The Piston" Thomas in the Mytrafficman.NET 9t car. See you at the Races!

Sincerely,
Ziad I. Youssef
Founder: www.mytrafficman.net


TOP 4 WAYS TO BEAT A DUI
THE 4 MOST IMPORTANT THINGS TO DOCUMENT IF CHARGED WITH DUI: They Can Get Your DUI Dismissed.

1.) Was the Officer Justified to Stop You;
2.) Did the Officer Have Probable Cause;
3.) Did the Officer Properly Warn you of the Consequences of Submitting to the test or Refusing; and
4.) Was the BAC Test Reliable or the Refusal Voluntary

If you remember the events leading up to your DUI, Our DUI Lawyers in Bellingham, Kirkland, Seattle, Skagit County & Kitsap County will give you a FREE evaluation of your case before court. CALL NOW: 360-734-0908 OR 206-905-7705.
SLOW DOWN & READ: HOW TO GET YOUR TICKET DISMISSED!
NOVEMBER 2013: DONATE to the WHATCOM COUNTY LIBRARY FOUNDATION this month, and we will fight your speeding ticket for FREE in Whatcom County this month too. CALL FOR DETAILS: 360-734-0908.

Our Team of Speeding Ticket Defense Lawyers from Bellingham, WA have had great results helping 100's of Whatcom County residents avoid higher insurance rates, or license suspensions due to an untimely speeding ticket or moving violation. This month, we offer that service for FREE to anyone who DONATES money to the WHATCOM COUNTY LIBRARY FOUNDATION during the month of November. You can do that by visiting: http://www.wcls.org/donate-funds.
DUI PENALTY FOR REFUSING A BREATH TEST IS UNCONSTITUTIONAL
OCTOBER 11, 2013 (KING COUNTY): OUR SEATTLE DUI LAWYERS, 6 weeks ago, got a King County Judge to rule that a breath test machine refusal was a constitutional right that cannot be used against you, and on October 11, 2013 the DUI TEAM got the judge to agree that refusing the field sobriety tests (ROADSIDE TESTS) is similarly a constitutional right. Call us at 360-734-0908 to learn what that means for your DUI case.
SEVERE DUI PENALTIES START SEPTEMBER 28, 2013
Our Bellingham DUI Lawyers are here to explain what the changes will mean for your DUI case. (Fines go up to $10,000 in some cases, and probation violations could result in license suspension plus an automatic 30days jail). The Law, signed by Governor Inslee, goes into effect September 28, and Our Kirkland and Seattle DUI Lawyers understand the impact it will have on new DUI arrests. (Ignition Interlock Devices or 24/7 alcohol monitoring will be required, even while you are presumed innocent).

That's why you need a strong team of DUI Lawyers on your side in Bellingham, Bremerton, Port Orchard, Mt. Vernon, or Burlington Call NOW: 360-734-0908; and for our DUI Lawyers in Okanogan, Vancouver, Ellensburg, Everett or Kirkland, Call 206-905-7705
ARE DUI CHECKPOINTS LEGAL IN BELLINGHAM OR OKANOGAN OR KIRKLAND OR PORT ORCHARD?
Our DUI Lawers in Bellingham, Okanogan & Kirkland & Port Orchard want you to know that DUI CHECKPOINTS ARE UNCONSTITUTIONAL in Washington State: First, DUI Checkpoints are still unconstitutional under Washington State Law. That means any evidence they find when they make you pull over for the checkpoint (e.g. odor of alcohol, slurred speech, poor coordination) would all be suppressed in Bellingham DUI Courts, in Port Orchard DUI Courts, and every other Washington Court as fruits of an illegal stop.

There are 3 levels to a police DUI stop: 1) purely social (e.g. officer says, "hi, can I talk to you for a minute?") and no grounds for that stop are required, but you can say NO just like you would to any other stranger; 2) investigatory "Terry" v. Ohio Stop where the officer stops you to investigate a suspicion, not just a hunch, and that requires a reasonable and articulable suspicion, otherwise the evidence will be suppressed (thrown out) in court; And 3) An Arrest (which is more than a detention and would make a reasonable person feel arrested) requires Probable Cause which is a reasonable belief, not just a suspicion, that you committed a crime. If they can't justify these stops, all the evidence obtained gets suppressed.

Finally, Washington State Law says you have the right to a lawyer at every "critical stage" of the case. That would require something like being handcuffed, placed in back of the police car and questioned (definitely a critical stage). If you need a DUI lawyer in Bellingham, Okanogan, Kirkland, Port Orchard, Seattle, or Everett, please CALL NOW: 360-734-0908 or 206-905-7705. We offer a FREE Consultaion, so you can understand your rights and your case, and to help you make informed decisions.
Tough DUI Cases Require Strong Criminal Defense Strategies for Great Results.
May 2013 Results: DUI dismissed for lack of arresting agency jurisdiction; No Vehicular Assault Charge and DUI reduced to Reckless Driving in a .31, rollover accident with faulty implied consent warnings; .23 DUI reduced to Negligent Driving for unreliable BAC reading. Two DUI cases reduced to Negligent Driving 2nd Degree traffic infractions for unjustified stops or arrests without probable cause. These DUI Cases happen in Port Orchard, Kitsap County, Bellingham, WA, Kirkland, King County, and Everett, Snohomish County where DUI charges and alcohol offenses are prosecuted very strictly.
WHAT A STRONG DUI DEFENSE STRATEGY MEANS FOR YOU:
Prosecutor's across the State are getting more aggressive about DUI convictions. Everett Prosecutors, for example, consider an offer of MANDATORY MINIMUM jail, license suspension, IID, and probation to be a standard offer on a first offense DUI. Skagit County and Seattle, Redmond, Bellevue, and Kirkland prosecutors will not negotiate a DUI over a certain BAC breath test reading unless there is a significant legal issue. So, a strong DUI defense strategy means that you will be prepared to respond to these attacks with confidence. 2013 Results speak for themselves: First offense Marijuana DUI reduced to a traffic infraction; 3rd Offense DUI reduced to Negligent Driving 1st Degree (1 day jail only); 3rd offense DWLS 1st degree reduced to DWLS 3rd degree (20 days community work crew instead of 6 months jail).
DUI Lawyers for DUI Success: Bellingham, Skagit, Seattle, Everett
January 2013: MyTrafficMan.NET gets a DUI dismissed at trial in Skagit County. Our Bellingham DUI Team of Top Caliber Lawyers got 3 DUI's dismissed. Our Seattle and Everett DUI lawyers are developing new strategies for DUI success in King and Snohomish County. Click the You Should Know link to your left and read how.
Light Up Now, and YOU MAY STILL GET BURNED?
Although some Puget Sound Prosecutor's Offices have decided to drop small possession cases, others may continue to prosecute them for up to a year. And, adults under 21 get no reprieve from I-502. And, as an added precaution, the initiative creates a new Per Se (strict liability) DUI for people driving under the influence of just 5 nano-grams of THC, similar to the .08 rule for alcohol. Not Sure How this Affects YOU? CALL NOW for a FREE Consultation
DUI Lawyers: 2012 Client's Choice
Winning is Getting What You Want.
NOT GUILTY: Breath Test on the DUI was .087; Jury Finds NOT GUILTY. 1 OF 3 not guilty's for September 2012!!!
WA Legislature is Making it More Expensive to Keep Your License!
Recently, the Washington State Legislature increased the price of fighting a DUI license suspension. It will now cost you $375 for the opportunity to have a hearing with a Washington State Department of Licensing Hearing Officer in an effort to fight a license suspension due to a recent DUI charge. Our attorneys at mytrafficman.net would like to sit with you and weigh your options to see if fighting your license suspension is the right choice in your case.

DUI DEFENSE: UNLIMITED! Why Hire Our Lawyers for a DUI? We Fight To Win, & Get Results
Our Bellingham DUI Lawyers got 3 DUI's dismissed in May 2012. Our Seattle DUI Lawyers are negotiating a Dismissal in yet another case. Also this month, we had a DUI reduced to Negligent Driving 2nd Degree (a Traffic Infraction). Let us analyze the Uncertainty in your BAC Breath Test Result in Bellingham, The Constitutionality of the DUI Stop and Arrest in Everett & Seattle; Let us look for "Confusion Issues" in your Implied Consent Warnings in Kent and Tacoma DUI Investigations. And Let us Make sure you have an effective DUI Lawyer every step of the way in Bellingham, Seattle, Ferndale, Burlington, Everett, Bellevue, Tacoma and most of Western Washington.
You Haven't Blown It If Your BAC is .08!
A good DUI Attorney in Bellingham, Seattle, Everett and beyond understands that a .08 is not a .08. DUI attorney's have forced the State to admit that when the machine says .08, it really means, it might be .08, but it could just as easily be .072, so don't give up just because the machine says it's (your BAC) is over. Call, TEXT or email for more information on Breath Test Uncertainty.
GET A DUI ATTORNEY FOR COURT IN BELLINGHAM, WA or EVERETT, WA or MOUNT VERNON, WA (FOR FREE)!
February 22, 2012: MYTRAFFICMAN.NET is proud to announce it's Bellingham, Mount Vernon and Everett based DUI Lawyer, Limited First Appearance Program. Choosing a DUI Lawyer can be overwhelming, and citizens shouldn't have to choose an attorney under pressure of pending court hearing like the DUI arraignment, so we've teamed up with a few affiliates in Mount Vernon, WA and Everett, WA to offer our services, on a limited basis, to help you get through the first appearance or arraignment in a DUI charge PRO BONO (FOR FREE). Call 360-734-0908, Text 360-441-0528, or Email mytrafficman@gmail.com to learn more.
WHEN YOU GET STOPPED, WE GET STARTED!
NEED A DUI LAWYER in Bellingham, WA or Seattle, WA or Everett, WA. Have a Speeding Ticket in Whatcom, Skagit, or Snohomish County or King County. Get Prepared, Get Informed, Get mytrafficman.net!
YOU CAN BEAT A DUI: (Bellingham, Seattle, Skagit & Snohomish) Results Speak for Themselves...
RESULTS IN THE LAST 120 DAYS: 1) DUI with BAC of .21 reduced to a simple, non-criminal infraction of Neg 2 in Bellingham, WA and DUI with BAC of .23 and accident reduced to Reckless Driving;

2) DUI with a BAC of .17 reduced to a simple non-criminal traffic ticket "driver inattention" in Lynden, WA;

3) DUI with BAC of .15 reduced to Reckless Driving in Seattle, WA and DUI 2nd Offense in Issaquah, WA reduced to Neg 1;

4) DUI with failed field test and breath test of .08 reduced to non-criminal offense and will be dismissed in 1year Whatcom County.

5) Even more... DUI, Speeding, Criminal Defense results in Skagit & Snohomish County.
Friday August 19, 2011: DUI EMPHASIS PATROLS
DUI EMPHASIS PATROLS started Friday across the State; and, as of June, if you get pulled over and arrested for a DUI in Washington, your car will be towed and impounded for a minimum of 12 hours. The impound is mandatory under new State Law that even contemplated increased Ignition Interlock Device requirements for drivers arrested with less than a .08 BAC level. Check out the TOP 10 FAQ'S on DUI if you have been arrested.
SPEED EMPHASIS PATROL
August 5, 2011: Look Out! Law Enforcement across the State are enforcing a state funded Zero Tolerance policy on speeding Until August 7, 2011. This weekend will be the final push for officers engaged in this Speed Emphasis Patrol.
Did You Get Snagged by DFW?
MAY 20, 2011: Fish & Wildlife Enforcement Agents are out to catch their own share of fishy offenders this season, and they don't have a Catch & Release policy. And remember, you could lose your license to fish, and some of those tickets could give you a criminal record, so Ask Mytrafficman.NET if you're cited and DON'T just pay the ticket.

WE FIGHT FOR YOU!
April 20, 2011: Mytrafficman.NET teams up with FightNightEntertainment.com and sponsors MMA in Bellingham, Anacortes, Skagit County, next in the Seattle Area. It's been a lot of fun, and we can't wait for the next show on July 9, 20011.
Ask Mytrafficman.NET Instantly
May 1, 2011: Mytrafficman.NET launches the new Ask Mytrafficman.NET search engine. If the answers you're looking for can't be found on the site, one of the attorneys from the mytrafficman.net team will answer them instantly for you in an online chat. Ask about your DUI, Ask about your Speeding Ticket, Ask about your license, or your Criminal Defense, and you will get answers. We can Help in Bellinhgam, Skagit, Everett, Seattle, and beyond!
FREE answers NOW!
Team LINKS

Ziad Youssef on Google+

Todd Anderson on Google+

Jason Smith on Google+